Magic Attic Club Doll Rose/Rosa
I'm very excited to be adding another doll to my collection. Introducing Rosa/Rose all doe-eyed and dolled up. I bought her off of eBay for less than $25 including shipping, a great deal I know! I love collecting dolls in the 18" category and when I saw that people still sell dolls from the popular Magic Attic Club Book series, I had to have one. I really lucked out because she was listed as a "1997 17" Vinyl African American/Indian Doll Gotz?" I was the only person to bid on her, but let's be honest she didn't look like much from the pictures.
See for yourself...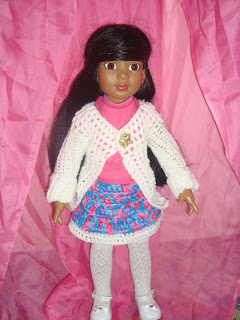 I brushed her hair to the side, crocheted her a sweater with a gold button and a multicolored skirt and gave her lots of tender love and care. Doesn't she look brand new!